International driving licence required in Indonesia/Bali.
Usually : ca.15 min. / 18.- € & 2 biometric passport photos – at your driving licence office.
( valid for 3 years )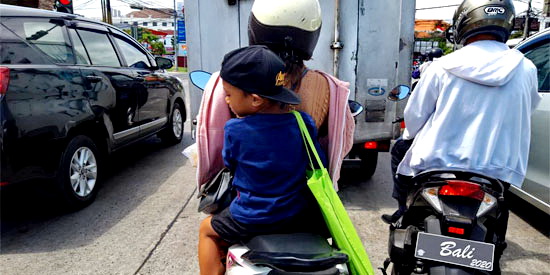 As nice and considerate as Balinese / Indonesians are when you are on foot, they behave very differently when you are driving a vehicle (not in an aggressive sense). Let yourself be surprised and don't be shocked, this is the driving mentality here. The rules in traffic can be counted on 3 fingers. Often the size of a vehicle decides who has the right of way. Everyone tries to be the first, which causes traffic jams and traffic chaos. Indonesia has a minimum age of 17 to obtain a driving licence.
Honking is important and normal, it is an important part of traffic.
Public transport in Bali is not nearly as well developed and reliable as one might need for a relaxing holiday. But don't worry, we are there for you ( airport pick-up / day tours / scooter rental ). There are possibilities to rent cars (on request), but the formalities are often less detailed than you know, with all the side effects that entails. Contra points are the chaotic traffic on Bali and the risk of having to pay for your own damage and that of the other party in the event of an accident (or an uncertain legal situation in the event of damage).
Especially among backpackers and surfers, the scooter is very popular as a cheap means of transport. You don't need an international driving licence to rent a scooter, but an international driving licence is compulsory for foreigners on Indonesian roads (the problem is with the driver, not the rental company). For surfers, constructions have been made on Bali that allow the surfboard to be taken along with the scooter.
Showing your driving licence is considered a lucrative source of income for the police in Bali. Therefore, we strongly recommend that you carry an international driving licence. The vast majority of Balinese/Indonesians neither have a driving licence nor have they ever taken a driving lesson. However, they have been driving scooters from an early age. Scooters are also used to transport anything and everything in unlimited numbers and shapes. Imposing overtaking manoeuvres may be impressive, but the rest of us cannot match this level of experience and should have at least 1-2 years of experience in Indonesian road traffic. Conclusion: The magic word is "SLOW".
If you are able to brake and react at all times, nothing will happen and you can react to all surprises in time. This is due to the fact that people in Indonesia pay much more attention to each other than in Europe, for example. Even if it doesn't seem like it at first glance.
Bali-Urlauber.de wishes you "HATI HATI", which means as much as, Watch out, be careful or take care.